Why choose Guardian?
Guardian Recovery is proud to be the only UK debt recovery company that offer a Guaranteed Level of Service. The security this provides for our customers sets us apart from the rest of what is often, a very unstable industry. With a debt recovery process structured in such a way that we can apply the maximum amount of pressure on your debtors over a long period of time, should our initial approaches be unsuccessful we know that through this strategy we will ultimately be able to complete a successful recovery as once the debtors realise we aren't just going to fade away they soon begin paying what they owe. If we don't do the work we say we will, our customers are entitled to a 110% refund.
Our customers benefit from:
a Dedicated Account Manager
fully inclusive debt recovery
legal assistance
Guaranteed Level of Service
We are approved partners of Creditsafe who provide accurate and up-to-date information on debtors which enables us to trace, contact and enforce for our clients.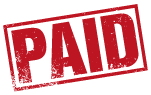 So if you are looking for a firm with the right skills and attitude to help you out in recovering outstanding money owed to you then look no further. To discuss the matter in greater depth, and to see what we can do to help, call our new business team free on 0800 024 6264.